In this article:
Summary
Preview Variants is a tool that allows you to pair your device to the Apptimize dashboard and test the variant on your actual device so you can verify that the variants are performing as you expect them to.
When connected to Preview Variants, a visual representation of the variant on the Apptimize dashboard is viewable via mirroring, a participation indicator, and a section to verify the targeting and representation of the captured events. We recommend this approach of testing for simple visual/UI debugging (especially if the Visual Editor was used to create variants) and/or event-tracking.
Preview Variants is a useful tool for front-end/UI testing. Product managers often prefer to do preliminary testing with the tool to confirm variants/events are appearing as they should - this is straightforward and fast due to the lack of coding required.
For complex QA testing beyond visual elements, our clients prefer to use our QA Console, programmatic and targeting-based QA. These methods are outlined in the sections you can find here.

How to Pair Your Device
The Preview Variants section can be found on Step 4, Target & Launch, of the Experiment set-up process:

Assuming you've configured your visual/code changes for variants (from Step 3), you can then scroll down to Preview Variants from the Target & Launch page and find any eligible devices for pairing.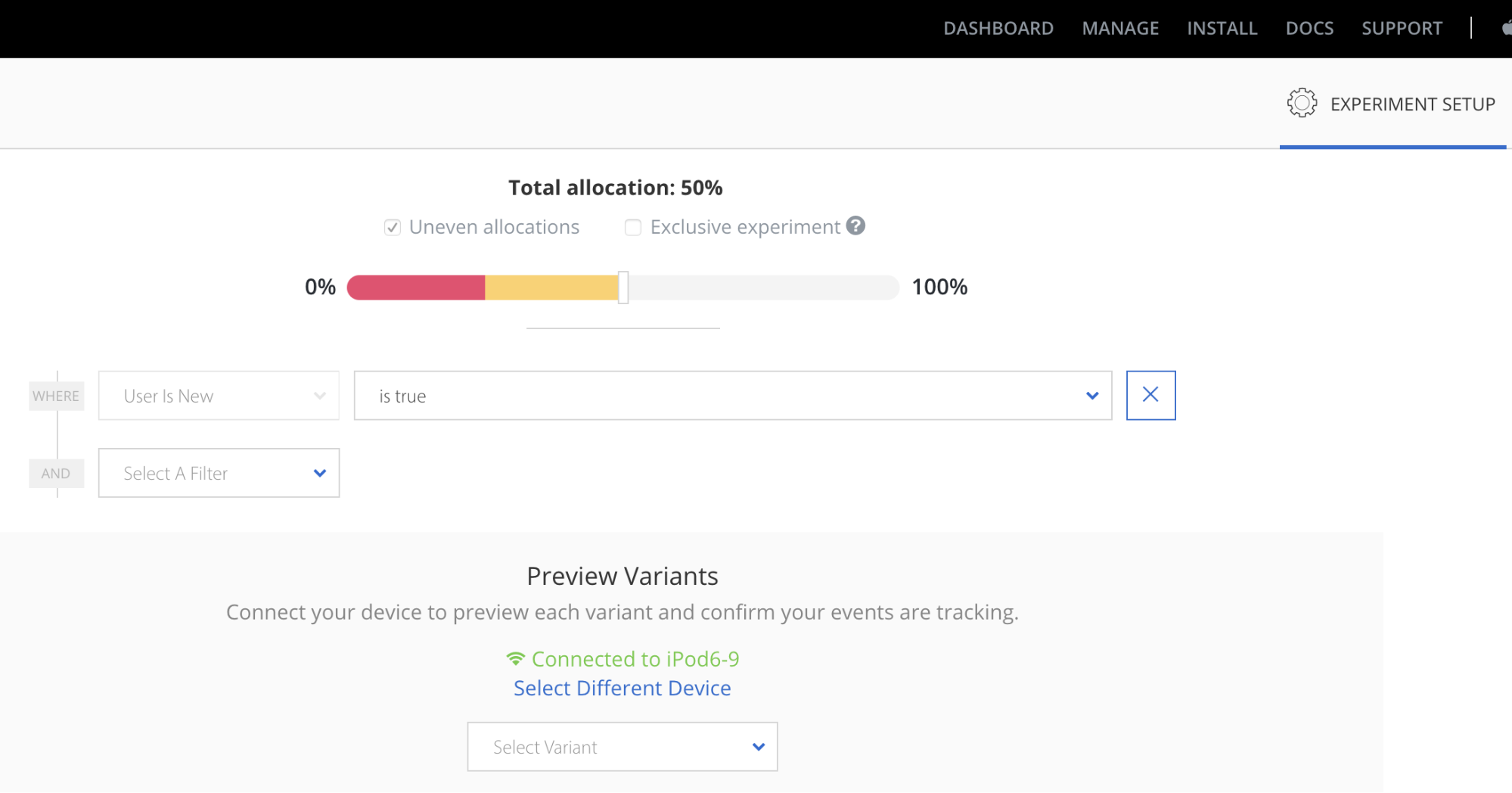 If you are using a development build of your app, you should see your device available for Preview Variants as soon as you open your app. If you do not see any devices available, please check the following:
Ensure that you've followed the steps on the Install page and verify that the Apptimize SDK is properly installed

Make sure that your unique application key (also found on the Install page of your experiment) is implemented in your app

Make sure your application is open and running

For additional details see

this Support FAQ
If you would like to test your app using a production build or a signed build, you will need a unique pairing token. To obtain a Paring Token for your app open the Apptimize dashboard, go to your Organization Details, then click on the app for which you need the Pairing Token. It will expand and you can find the pairing token listed below the Name attribute.

Once you have your pairing token, you can just copy the token to the clipboard before launching the app (remember to kill and relaunch if app is already open) to pair with the dashboard.
Here's a video for reference that goes over pairing around the :40 second mark.

The Preview Variants Modal
Once you're able to select a device, choose a variant to preview from the dropdown. This will launch a floating window similar to below:

The experiment name and variant name are displayed in the top left

Toggle "

Mirror App

" to mirror the display of your currently paired device

Click the "

Refresh

" icon to refresh the display

On the left-hand side, the participant's "

Status

" will be displayed.

For visual experiments the status will change to "Participating" if you are on the view that includes the variant, for code block experiments participation is triggered when the code block is executed, and for Dynamic Variable experiments it occurs when a dynamic variable involved in the experiment has its value queried. This is confirmation that participation is recorded.

The

"Targets"

section will display the targeting for the experiment

If you have any targeting criteria, the values (for example, App Version: 2.0) as well as an indication of whether the current device meets it will be displayed here. Participation cannot be triggered unless your device meets all of the experiments targeting criteria.

An

"Events"

section will appear once you trigger an event in your app

Any triggered events will appear here with the associated value (if available) will be displayed in this section

Any events with a "to be imported" status signify that the events are successfully detected and will be imported approximately one hour after the event is triggered on a device which is enrolled in a live experiment.
Now you should be equipped to use the Preview Variants tool to preview your variants and ensure targeting criteria is evaluated as expected. If you have any questions, please reach out to use at support@apptimize.com